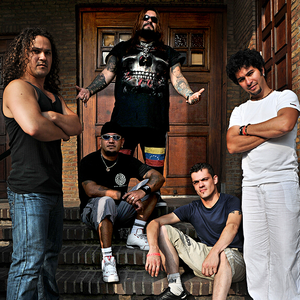 1989:
A powerful, energetic Metal Hardcore band is born Raymundo Ceballos - vocals, Pablo Minoli - guitar, Richard Rodriguez - guitar, Ruben Sposito - bass, Marco Toro Bernal – drums). All of them are Venezuelans, except for Uruguayan Pablo Minoli.
current line up is
Ronnie Tuinman - vocals
Marco toro - drums & percussion
Gregorio - bass & vocals
Miguel Padrón - percussion
Abel Cañizales - guitars
Releases
Laberinto
Released: April 1995
Label: Own Release (VIPONE)
Priority
Released: March 1996
Label: Mascot Records
Freakeao
Released: April 1998
Label: Mascot Records
Another Style
Released: November 2000
Label: 4-Tune Records
Laberinto Live: 2000
Label: Mascot Records
Decada
Released: September 2003
Label: Boombax Records
The World Might Suck (With Osdorp Posse)
Released: 2008
Label: Djax
Mask of a Thousand Faces
Released: 2010
Label: Sonic Rendezvous
Read more on Last.fm
. User-contributed text is available under the Creative Commons By-SA License; additional terms may apply.