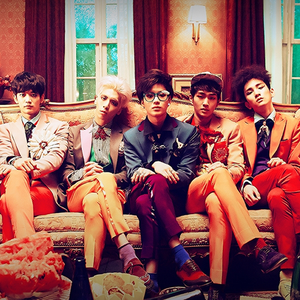 SHINee (샤이니) is a contemporary R&B group from Seoul, South Korea, formed by SM 엔터테인먼트 in 2008. They made their debut on May 25, during SBS's Popular Songs with their promotional single, "누난 너무 예뻐 (Replay)", or "Noona, You're So Pretty (Replay)". The group consists of Onew, Jonghyun, Key, Minho, and Taemin.
Since their debut, SHINee has won numerous awards. The group has starred in various shows as guests as well as in their own reality shows like Mnet's "Shinee's YunHaNam" and KBS's "Hello Baby." SHINee are considered to be fashion icons, having started the "SHINee Trend," which is popular amongst the younger generation.
SHINee have featured in tours of SM Town as well as in their own concert, The SHINee World.
In June 2011, they made their Japanese debut with EMI Music Japan.
To date, they have released four korean studio albums, The SHINee World, LUCIFER, the two-part Dream Girl: The Misconceptions of You / Why So Serious?: The Misconceptions of Me, and Odd – each originated the repackaged albums: AMIGO, Hello, The Misconceptions of Us, and Married to the Music, respectively; and five korean EPs (or "mini albums"): Replay, ROMEO, 2009, Year of Us, Sherlock and Everybody. They have also released three japanese studio albums, The First, Boys Meet U and I'm Your Boy, and numerous singles.
Members:
ONEW (Lee Jinki) | 온유 | 温流 (WenLiu)
Birthday: 1989.12.14 (25 years old)
Interest/Speciality : Singing , Piano, English, Chinese
JONGHYUN (Kim Jonghyun) | 종현 | 钟铉 (ZhongXuan)
Birthday: 1990.04.08 (25 years old)
Interest/Speciality: Watching movies, Singing, Piano, Guitar, Song-writing, and Chinese
Trivia: Was featured in Zhang LiYin's first album - Jang Ri In ft. Kim Jong Hyun - Wrongly Given Love
KEY (Kim Kibum) | 키
Birthday: 1991.09.23 (23 years old)
Interest/Speciality: Rapping, Dancing, Waterskiing, Art, English, Japanese, and Chinese
MINHO (Choi Minho) | 민호 | 珉豪 (MinHao)*
Birthday: 1991.12.09 (23 years old)
Interest/Speciality : Soccer, Basketball, Working out, Acting, Reading, English, and Chinese
TAEMIN (Lee Taemin) | 태민 | 泰民 (TaiMin)
Birthday: 1993.07.18 (22 years old)
Interest/Speciality: Dancing, Listening to music, Piano, Dogs, and Chinese
OFFICIAL WEBSITE: shinee.smtown.com
Read more on Last.fm
. User-contributed text is available under the Creative Commons By-SA License; additional terms may apply.